Dental Fillings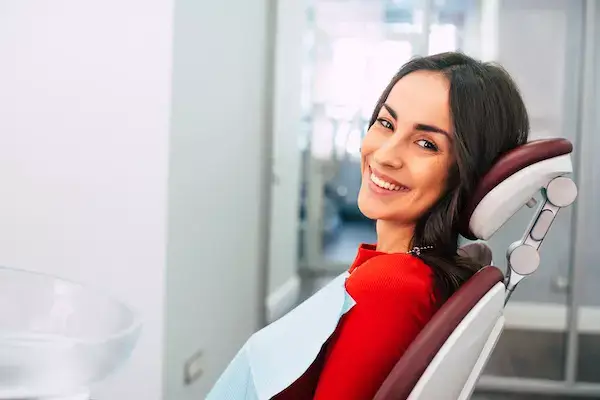 Dental fillings are restorative treatments that our dentist in Larchmont, uses to repair teeth that have sustained minor damage from cavities, chips, and fractures. Not only do dental fillings repair minor damage, but they also improve patients' oral health, smiles, and confidence. Dental fillings are one of the most performed procedures at
Eric Spellman, DMD
. Dr. Spellman has countless years of experience with precision tools, modern techniques, and polymer-based materials to deliver high-quality dental fillings that can restore our patients' smiles for years.
What are dental fillings?
Dental fillings improve the function, structural integrity, and appearance of damaged teeth caused by cavities or trauma. In the past, dentists used a mixture of metals to seal cavities and protect teeth from further damage. Today, however, dentists use a safer, more effective composite resin material for tooth fillings.
Why do I need fillings?
There are several reasons why patients might need dental fillings in the Larchmont, NY area, including:
Prompt cavity treatment: In general, cavities will not go away on their own. They will continue to spread without proper treatment, which can lead to cavities in neighboring teeth, too. Dental fillings halt cavities in their tracks, saving the patient's affected tooth, surrounding teeth, and oral health.
Filling in grooves: Sometimes, patients have small holes or grooves in their teeth that are not caused by cavities. However, these holes and grooves can trap oral bacteria, which can lead to cavities in the future. Subsequently, Dr. Spellman may recommend filling small holes and grooves as a preventive measure.
Chips and fractures: Even when teeth sustain minor damage–like small chips or fractures–their structural integrity decreases. This structural integrity decrease means more damage is likely to occur without proper reinforcement. Dental fillings give teeth the support they need to protect them from further damage.
Fixing discoloration: Stains and discoloration on the teeth can sometimes be a source of embarrassment for patients. However, tooth-colored dental fillings can easily cover stubborn stains and discoloration to improve the appearance of patients' smiles.
Addressing tooth sensitivity: When tooth enamel grows thin, your tooth will become more sensitive to temperature changes and pressure. Repairing areas of thin enamel with dental fillings help patients get much-needed relief from extreme tooth sensitivity.
What can I expect when I get a dental filling?
First, our dentist, Dr. Eric Spellman will determine if a filling is the proper
restorative dentistry
treatment to repair a damaged tooth. If it is, they will begin the process by administering local anesthesia to numb the treatment area completely. Then, our team prepares the tooth by removing any damaged tissue before drilling a small amount of enamel from the treatment area. Next, our team will color-match the composite resin to the patient's surrounding teeth before applying it directly to the tooth's surface. Once
Dr. Eric Spellman
applies the composite resin, he will cure it with a unique lamp. After the composite resin hardens, our family and cosmetic dentist, Dr. Spellman will file down the dental filling so that it feels comfortable when the patient bites and speaks. And that's it! Typically, patients can leave our Larchmont dentist office with a healthy, reinforced tooth in just one hour.
Schedule A Dental Filling Appointment
Contact our dentist in Larchmont, Dr. Eric Spellman at
(914) 315-4446
to schedule a dental exam and check-up to see if you need dental fillings. At Eric Spellman, DMD, we treat many family and general dentistry patients with dental fillings from Mamaroneck, Scarsdale, Rye, NY, and many surrounding areas.