Teeth Whitening & Teeth Bleaching
Teeth Whitening and Teeth Bleaching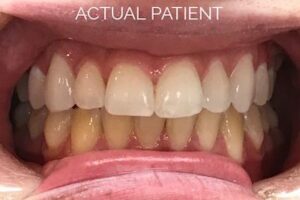 We respond to beauty, and we recoil from ugliness – it is just human behavior. Of course, we get over it, but still, it is there. And of course, you want to make the best possible impression on the people you meet, so if you have a discolored smile, the chances are that you would like to take measures to correct it. Dr. Eric Spellman can help you do just that. For superior teeth whitening result, Eric Spellman, DMD offers custom take-home trays.
Teeth Whitening Products
You have probably seen any number of advertisements for teeth whitening products. You've also probably seen some of those products in your favorite grocery or drug store.
Although these products are a bargain, the fact is, some of those whitening products that you find at your local store or bargain website, aren't all that good for your teeth.
If you want efficient, safe teeth whitening, your best course of action is to consult your dentist. A dentist will never suggest that you use anything harmful and dentists can offer whitening treatments that deliver results far superior to over-the-counter methods.
Common Teeth Whitening Questions
Below, we have answered some common questions we receive about teeth whitening from patients in Larchmont, Mamaroneck, Scarsdale, and the surrounding areas. Don't hesitate to contact our office today if you have any questions that are not listed below. We can help you schedule an initial consultation with Dr. Eric Spellman or answer any questions that you may have about the treatment.
How Often Should I Whiten My Teeth?
Every patient has different circumstances that can affect how often they should whiten their teeth. For example, if you are a consumer of alcohol, coffee, or tea, more frequent treatments may be needed to preserve your desired shade. As no teeth whitening treatment is permanent, Dr. Spellman recommends periodic touch-ups. Many of our patients visit our office for teeth whitening every six months to help maintain their desired results.
Can I Use An Over-the-Counter Teeth Whitening Product Instead?
Over-the-counter teeth whitening products often come in whitening strips or gels. While these kits can help whiten stained or discolored teeth, their effects are typically less significant since the materials are less concentrated. Furthermore, you may require more product and treatment time to achieve your desired results. In addition, professional teeth whitening is personalized to your needs, both in-office teeth whitening and at-home, providing advanced whitening with less risk of irritation.
How Does Teeth Bleaching Vary From Teeth Whitening?
While the phrases "teeth bleaching" and "teeth whitening" are commonly used interchangeably, they achieve slightly different goals. Teeth bleaching indicates how the teeth are whitened. In addition, bleaching is often intended to whiten teeth beyond their natural shade. In comparison, teeth whitening refers to lightening the color of a patient's teeth back to their peak natural brightness.
When determining your ideal shade of teeth whiteness, Dr. Spellman will discuss what you can expect from your treatment. If you cannot achieve your desired brightness from teeth bleaching, he may recommend an alternative therapy with porcelain veneers.
Can My Dental Restorations Be Whitened?
Unfortunately, teeth whitening is not effective on the materials used for common restorations, such as composite bonds, porcelain veneers, or dental crowns. Therefore, if you whiten your teeth but have a restoration, they may not match the surrounding teeth as they originally did. You may require a color-matched replacement restoration to your whiter teeth to correct this cosmetic concern. However, a color-matched replacement restoration is generally only advised if you want to maintain your whitening results.
Can I Extend My Teeth Whitening Results?
The best way to extend the results from teeth whitening treatment is to continue your regular oral hygiene routine. In addition, refraining from using tobacco products and consuming teeth-staining beverages will help extend your whitening results. Touch-up sessions are also helpful in prolonging the effects, and Dr. Spellman can discuss this option with you during your initial consultation.
What Should I Eat After Teeth Whitening?
In the 48 hours after a teeth whitening treatment, you should avoid foods or drinks that are highly staining, such as coffee, tea, berries, and marinara sauce. In general, you should opt for what many call a "white diet." A white diet is when you stick to light-colored foods, such as eggs, potatoes, crackers, bananas, lighter cheeses, milk, etc.
During bleaching treatment, your enamel becomes more porous to allow brightening. Unfortunately, this also makes your teeth more prone to taking on the pigments of staining foods. After a couple of days, you can return to your regular diet. However, keep in mind that any foods or drinks that are dark in color can lessen the brightness of your teeth-whitening results, reducing the longevity of your results.
Why Are There White Spots on My Teeth After Whitening?
Many people have small white spots on their teeth, which can become more visible after teeth whitening. A bleaching treatment does not cause these stains, but if you notice any of these marks, they may be a sign of another concern. These white patches typically result from hypo calcification, where the tooth enamel doesn't have enough calcium. This condition can result from causes like excessive fluoride exposure, a highly acidic diet, or plaque buildup. If you're interested in lessening these white spots, Dr. Eric Spellman can discuss the different treatment options to help you achieve a bright, flawless smile.
Schedule A Teeth Whitening Appointment
If you're dissatisfied with yellowish or otherwise discolored teeth, our in-office and at-home teeth whitening treatments can help improve your smile. Don't settle for lackluster teeth when you can benefit from the best cosmetic dentistry treatment on the market today. Call Dr. Spellman at (914) 315-4446 to get the bright smile you want. We also treat teeth whitening patients in Mamaroneck, Harrison, New Rochelle, Scarsdale, Rye, and surrounding areas.