Porcelain Veneers by Eric Spellman, DMD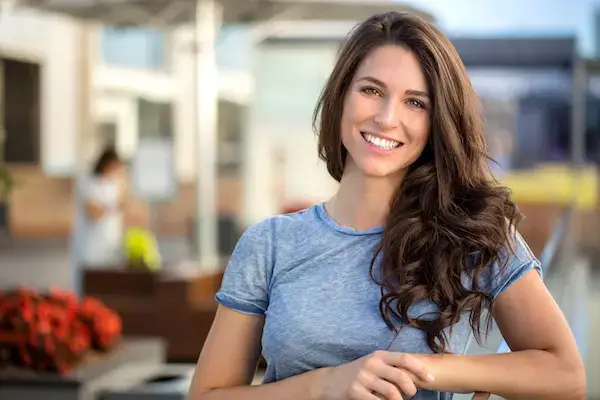 Many people are unhappy with the appearance of their smile and avoid showing them as much as possible. If you fall into this category, you can take comfort in the fact that you aren't alone – far from it. Studies show that the majority of us have at least one aspect of our smile that we dislike. It is not surprising that more people than ever are turning to porcelain veneers, a cosmetic dentistry treatment to make improvements to their smile.
Today, bright, straight, and perfectly proportioned teeth are highly desirable characteristics. Many people agree that a beautiful smile makes people appear healthier, more successful, and more attractive. Therefore, if you are not satisfied with the appearance of your smile, then the effects on your confidence and self-esteem can be devastating. Many people avoid eating in public or avoid having their photographs taken. Additionally, some people even avoid speaking to others because they feel they have unattractive teeth.
Fortunately, an experienced cosmetic dentist can address most imperfections of your teeth. Porcelain veneers are a popular treatment that fixes a range of cosmetic abnormalities.
What are Porcelain Veneers?
Porcelain veneers are a popular cosmetic dental solution that can improve the appearance of your smile. These improvements include:
Brightening the color of your teeth
Closing small gaps between your teeth
Helping your teeth seem more uniform in size
Fixing chips
Straightening misalignments
Veneers are generally created and supplied in complete sets, and each set is custom-designed specifically for your teeth. Dr. Spellman can create the porcelain veneers in a variety of shades to blend with your natural teeth. Therefore, it is possible to lighten the color of your teeth. Once created, Dr. Spellman individually applies each veneer to your teeth. Thus, the porcelain veneers will cover the imperfections and improve the appearance of your smile.
How are dental veneers applied?
Dr. Spellman will custom design and create your veneers before fitting them on your teeth. To do this, Dr. Spellman will file down some of the existing enamel on the outside of your teeth. By doing so, each veneer will fit flush to your tooth to blend naturally. During this treatment, Dr. Spellman will use local pain anesthetic, so you will not be in any pain or discomfort.
Next, Dr. Spellman checks the fit and placement of the veneers. Afterward, he will use an adhesive resin to secure each veneer individually. Finally, Dr. Spellman will cure the resin with a special light. Once all of the veneers are in place, you will immediately see the final appearance of your smile.
Benefits of choosing porcelain veneers
There are many benefits to choosing porcelain veneers for your smile transformation. These include:
Cover minor imperfections such as cracks and chips
Transform the color of your teeth
Stain-resistant
A minimally invasive procedure with low risk of complications
Natural-looking
Strong and durable
Also, veneers are a good alternative for patients who have not been able to achieve the degree of whiteness they want with teeth whitening.
Read our blog to learn more about the benefits of porcelain veneers in the Larchmont and Mamaroneck area.
Contact Us
If you think that porcelain veneers may provide the ideal solution to your smile imperfections, we are delighted to help you. Contact our cosmetic dentist at Eric Spellman, DMD in Larchmont (914) 315-4446 to schedule a porcelain veneers consultation. We also treat dental veneer patients from Mamaroneck, New Rochelle, Harrison, Rye, Scarsdale, NY and surrounding areas.