Benefits of a Smile Makeover in Larchmont, NY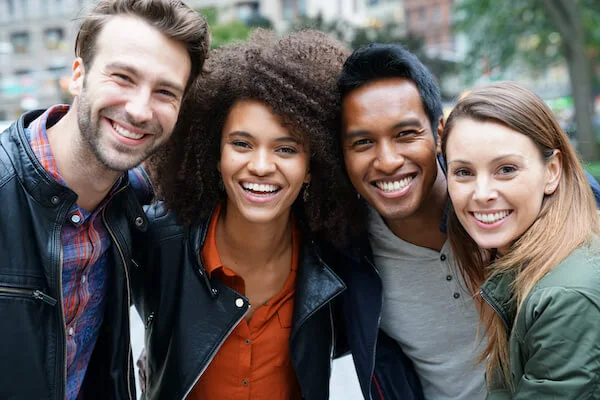 To transform your smile with a professional cosmetic dentist, the office of Eric Spellman, DMD provides a variety of services. Our goal is to help you improve the look and comfort of your teeth and gums through a smile makeover. Before selecting our dental office for your cosmetic dentistry services, learn more about what you will benefit from when you have a smile makeover in Larchmont, NY.
Boost Self Confidence With a Brighter Smile
One of the main reasons why we want to improve our smile with a smile makeover is for self-confidence. To have a bright smile with sparkling white teeth that are perfectly straight makes all the difference. Whether you are trying to get a new job or you want to impress a date, a smile says so much. A smile makeover lets you achieve those goals for beautiful teeth and gums. In addition, you are more at ease when conversing with others when you have a smile that you are proud of. This can make all of the difference in your social life and with your occupation.
Choose Oral Health and Wellness
Having a gorgeous grin is far from the only reason why you want to see a cosmetic dentist for dental work. When your teeth are crooked or not lined up properly, this leads to issues with tooth decay. You are unable to get in between the teeth and gum line efficiently to remove plaque and tartar buildup. As a result, you may suffer from tooth decay and tooth loss. By having dental care of porcelain veneers you can straighten misalignments, close gaps between teeth, and fix chipped teeth. This will help you extend the life of your teeth and smile so you can reduce future expenses in dental treatments and oral health care.
Start Your Smile Makeover Today in Larchmont, NY
To get started with your professional smile with a makeover solution in Larchmont, NY, choose our dental office. Our cosmetic dentist, Dr. Eric Spellman, is a specialist in the improvement of teeth and gums using the safest and most effective solutions. We offer porcelain veneers, teeth whitening, tooth-colored fillings, and bonding in our office at your convenience. In addition, if you need partial or full dentures to restore your smile in a smile makeover, we have the resources to help you. Call our office today at 914-315-4446 to schedule an appointment for dental treatments for your smile makeover with Dr. Eric Spellman in Larchmont, NY.