1-Hour In-Office Teeth Whitening
1-Hour In-Office Teeth Whitening with Take-Home Touch-Up Kit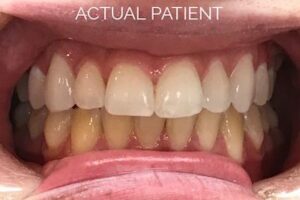 It's no secret that our smile is one of the first qualities people notice when they meet you. So you probably want to make an excellent first impression by flashing your pearly whites. On the other hand, when your teeth are not beautiful and white, you may feel very self-conscious about your smile's appearance.
A way to get a whiter, brighter, and more brilliant smile is through tooth whitening at Eric Spellman, DMD! With over 30 years of experience in cosmetic dentistry treatments, Dr. Eric Spellman is a preferred cosmetic dentist in Larchmont for teeth whitening patients.
In-Office Teeth Whitening with Take-Home Whitening Kit
Our professional teeth whitening systems and products are designed to deliver safe and effective teeth whitening results. For example, our 1-hour in-office teeth whitening system with a take-home kit includes a universally sized mouthpiece that combines gentle warming heat and LED blue lights to optimize your whitening results.
Professional Teeth Whitening
Our professional teeth whitening system also helps Larchmont, Scarsdale, and many other patients achieve long-lasting results with less sensitivity than with other professional teeth whitening kits. Our professional teeth whitening formula is a unique consistency that sticks to the teeth (and is not runny like other teeth whitening products).
Why our teeth whitening system?
Dr. Spellman offers patients teeth whitening products to provide a positive, effective, and stress-free whitening experience for clinicians and patients alike.
NO TREATMENT SENSITIVITY
LESS CHAIR TIME
PROMOTES PATIENT HOMECARE COMPLIANCE
How long will teeth whitening last?
Whitening your teeth and keeping your smile looking stunning and bright is like coloring your hair: maintaining your results requires maintenance. Your maintenance program depends on several factors, including lifestyle, age, and original shade. We recommend completing a full GLO whitening treatment to get your desired shade. After the treatment, maintain your teeth whitening results with one day of whitening each month and five to seven days of GLO whitening treatment after six months. If you want a boost in whitening, it is safe to continue using your GLO device until you achieve your desired results.
How does the teeth whitening system work?
The whitening system is the only at-home treatment with gentle heat and blue LED light to achieve safe and effective tooth whitening results. The teeth whitening gel stays in place without the mess of strips or uncomfortable teeth whitening trays. In addition, the gentle "heat-and-light" mouthpiece enhances and accelerates the results, allowing you to brighten your smile in a portion of the time of traditional teeth whitening systems.
Our system provides optimal yet gentle results – up to five or more shades lighter in five to seven days. Developed by NYC's top aesthetic practicing dentist, has been proven safe and effective in multiple clinical studies.
Contact Our Larchmont Dental Practice Today!
Call Dr. Eric Spellman at (914) 315-4446 to get a bright smile in just 1-hour. We treat teeth whitening patients in Scarsdale, Mamaroneck, Harrison, New Rochelle, Rye, and surrounding areas.